kittens
NO.22. The Merlin-class Merlin & Tilly
Both of them are GSD-IV, PK.Def. negative, as well as HCM normal.
We have been in love with Merlin and his progeny for many years now. We are grateful to our dear friend Joan (Merlin's breeder and owner, DK*Morgunstrálan´s cattery) for this unique opportunity. Thank you for taking such a good care of Tilly while she was visiting in Denmark, and again thank you for your trust!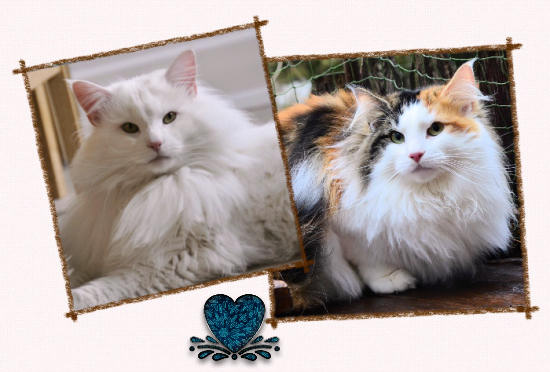 CH DK*Morgunstrálan´s Merlin, JW x IC Rinoa Heartilly Laguna Loire*ES
pedigree | DOB.: May 31, 2019 | they are now old
NAME

SEX

COLOUR / EMS CODE

STATUS

PHOTO

HU*Gallifrey's Grampus of Merlin
male
NFO n 03 24
booked
HU*Gallifrey's Swan of Merlin *
female
NFO w 63
booked
HU*Gallifrey's Kingfisher of Merlin *
male
NFO w 62
booked
HU*Gallifrey's Falcon of Merlin *
male
NFO w 62
booked
HU*Gallifrey's Hornet of Merlin
female
NFO f 03 24
booked
HU*Gallifrey's Swallow of Merlin
female
NFO f 03
booked
* BAER tested, fully hearing on both sides

info
The kittens can leave our home around 14-16 weeks age. By this time they are fully vaccinated (primary/basic immunisation and a booster) and they get a rabies shot as well as EU pet passport if they move abroad. They are wormed regularly and have an ID microchip. All kittens will have a Felis Hungarica/FIFe registered pedigree, the new owners receive a certificate of good health. Our breeding cats are tested and found GSD-IV, PKD, PK def N/N (negative) and HCM/CIN: normal. A copy of the test results will be attached to our kittens folder, when they leave.
We intend to place our kittens into loving homes where they are kept indoor-only (with proper cat safety measures on windows, doors, terraces etc) and do not have contact with outdoor cats or other free roaming animals. A good alternative for free roaming is a cat safe garden or a well built catrun.
We reserve the right to withhold/keep a kitten without explanation.
info
Our cats are tested on a regular basis and the results (GSD-IV, PK Def., HCM, PKD, CIN) are published in international databases.
Our breeding cats are:
- GSD-IV& PK.Def. N/N,
- PKD & FeLV/FIV neg.,
- HCM/CIN normal.

kittens blog

photos, videos



In case you didn't find your dream kitten here, please look around at our friends: